Launched by CoLibrì in 2018, Perfecta represents a true revolution in wrapping gifts of any size
CoLibrì Perfecta was created for stores with a convenient roller system, thus avoiding the need to keep large supplies of paper or bags of different sizes. A compact machine for gift-wrapping packages of any size in a few seconds.
But CoLibrì Perfecta is also perfect for families at Christmas who have lots of gifts to wrap, as well as for any celebration or special occasion when gifts are exchanged.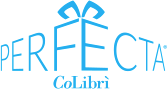 FIND OUT HOW EASY IT IS TO USE